Aug 24, 2007
SoupGraphix welcomes you to our newly designed website. We've been staying busy with all kinds of new projects including helmet and golf bag designs. We're venturing into new and exciting territories of design, while continuing our steady flow of cutting edge website and print design.
In addition to our new design work, we are now offering our SoupGraphix gear online, including shirts, posters, skate decks and more. Get them while you can!
We'll be updating the site on a monthly basis. Thanks for visiting!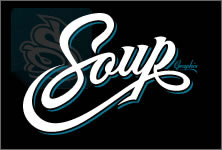 Jul 24, 2007
The gang from Soup visited the infamous Comic Con this past July in San Diego. Check out some of the photos from the show. Definitely a lot of interesting stuff (and interesting people) to check out.